PLASTIC CASE CAN BE USED AS A PORTABLE CASE
FOR CORRECT HYGIENE OF THE TOOTHBRUSH
DOME-SHAPED TYNEX®

 

BRISTLES FROM DUPONT™
Round-ended hard bristles help to fight against tartar without scratching the tooth enamel, keeping your teeth and gums healthy.
Hard Tynex® bristles are with superior cleaning ability from plaque and do not damage the tooth enamel and gums.
Ergonomic handle is designed for easy and correct use of the toothbrush.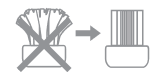 RECOMMENDED WITH DENTISSIMO®
TOOTHPASTE AND MOUTHWASH